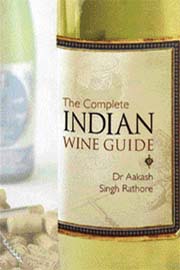 We'll have another of our very casual (some might say half-ass) Wine Times coming up soon, but in the meantime here's a book that treats Indian wine seriously and covers it in a systematic matter -- Dr. Aakash Singh Rathore's Complete Indian Guide, which came out last year. I just got it today, so I've just flipped through it, but it will be very useful. The author checks out all the major wineries in India -- about 20 when the book went to press.

Being so thorough has its dangers, at least for the writer and his tasting apparatus. Here's what Rathore says about the smell of the 2002 Riesling put out by Bosca Wines: "foul, green, and alcoholised." Taste? "Repulsive." As for the winery itself, it's "possibly India's worst" and a "tragedy." And he doesn't even get through all their offerings. How's their 2002 red? "There is really no point in going through the tasting process with this. It will be just as bad as the others, and I am afraid to try it just from the look of it."

If that's not news you can use, then I don't know what is. I'm looking forward to seeing how this guide's ratings compare with our own amateurish ones.

Another Indian-wine book probably worth checking out (I haven't yet) is Wine Wisdom, by the wine columnist and sommelier, Magandeep Singh.